Soundbars are the must-have digital device in the 21st Century. They are made to enhance your TV's built-in speakers and provide a cinematic experience right in your house. They can also add life to your parties, movie nights, and gaming sessions.
I have reviewed some of the best soundbars for Vizio TV that you can get right away, connect smoothly and enjoy their exceptional audio output. Their attractive design can become an appealing piece to your home décor. Also, their smart functions help you navigate the soundbar while working.
So, let me walk you through the detailed reviews of the best soundbars for Vizio TV and let you decide the ideal pair with your TV. Here is the list below.
VIZIO SB2821-D6 Soundbar
VIZIO VIZIO SB3621n-H8 Soundbar
VIZIO SB3621N-F8M Soundbar
Yamaha YAS-209BL Soundbar
Bose Solo 5 Soundbar
Sonos Beam Soundbar
Yamaha SR-C20A Soundbar
List of the Best Soundbar for VIZIO TV in 2023
1. VIZIO SB2821-D6 Soundbar
| | |
| --- | --- |
| Brand | VIZIO |
| Model Number | Vizio SB2821-D6 |
| Speaker Type | Soundbar with Subwoofer |
| Connectivity Options | Wired & Wireless |
| Weight | 3.85 Pounds |
| Dimensions | 28 x 3 x 3 inches |
| Recommended For | Surround Sound Systems, TVs, Computers, Smartphones & Tablets |
If you are not satisfied with your smart TV audio quality, get your hands on the VIZIO SB2821-D6 2.1 channel soundbar that comes with a wireless subwoofer to provide you seamless listening experience. However, it may not offer the best possible dialogue clarity with movies and shows; it won't disappoint you with bass depth.
The SB2821-D6 soundbar model of the Vizio comes with a traditional design, contains compelling built-in drivers, and protects them with a metallic grill. The wireless subwoofer of this best soundbar for Vizio TV also plays a vital part in enhancing the audio output. It provides an exceptional experience no other mid-range soundbar can offer.
Moreover, setting up the soundbar is pretty easy, and the Bluetooth connectivity encourages quick and smooth pairing with compatible devices. Also, the soundbar is equipped with appealing features like DTS TruVolume and DTS TruSurround to provide an excellent surround sound experience.
2. VIZIO SB3621n-H8 Soundbar
| | |
| --- | --- |
| Brand | VIZIO |
| Model Number |  SB3621n-H8 |
| Speaker Type | Soundbar |
| Connectivity Options | Wired & Wireless |
| Mounting Type | Table Top |
| Dimensions | 32 x 3 x 3 inches |
| Weight | 5 Pounds |
Vizio  SB3621n-H8 is an entry-level 2.0 channel soundbar that offers the excellent sound quality, at least better than the TV built-in speakers. It claims to deliver up to 97 dB of room-filling audio without such distortion.
However, you can not expect a rich bass performance since it lacks a subwoofer. Still, the audio output won't let you bore even in the action scenes of the movies and while playing games. In addition, the dialogue clarity is also noticeable and keeps you engaged while streaming shows.
Surprisingly, SB3621n-H8 supports Dolby Digital sound format and can get extremely loud without any distortion or lag. So, it can be the best soundbar for Vizio TV for mixed usage. Besides, the compact design with a budget-friendly price tag won't offer you advanced features. Even so, you can expect wireless connectivity, loud volume, and easy setup from the SB3220n-F6 soundbar.
3. VIZIO SB3621N-F8M Soundbar
| | |
| --- | --- |
| Brand | VIZIO |
| Model Number | VIZIO SB3621N-F8M |
| Speaker Type | Subwoofer, Satellite, Soundbar |
| Channels | 2.1 Surround Sound |
| Connectivity Options | Wired, Wifi, Bluetooth |
| Dimensions | 3.2 x 36 x 2.1 inches |
| Weight | 17.51 pounds |
Vizio Smart TVs offer excellent display performance with modern designs but fail to integrate high-quality built-in speakers. Well, no worries because the SB3621N-F8M soundbar from Vizio will cover this drawback and provide a fantastic listening experience.
Please don't worry about spending hundreds or thousands of bucks over a soundbar after spending on a Vizio 4K TV. This particular model of Vizio soundbar is an excellent deal and an excellent value for money. It comes with a wireless subwoofer, two small surround sound speakers on each side of the 36-inch soundbar, and remote control at an affordable price.
Moreover, this best soundbar's decent and sleek design catches your attention immediately. The matte black layer protects the built-in speakers even though the Bluetooth and power buttons are also covered with an attractive black fabric. In addition, the wireless subwoofer also delivers rich and deep bass and boosts the sound volume at maximum limits. The built-in Chromecast feature is a wonderful addition to try and experience the home theatre experience with this best soundbar for Vizio TV.
4. Yamaha YAS-209BL Soundbar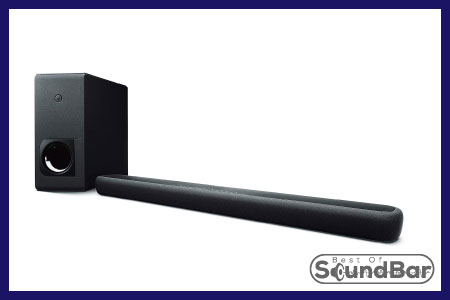 | | |
| --- | --- |
| Brand | Yamaha Audio |
| Model Number | Yamaha YAS-209BL |
| Connectivity Options | Wireless, Wi-Fi, HDMI |
| Item Weight | 20 Pounds |
| Dimensions | 2.44 x 4.29 x 36.6 inches |
| Speaker Type | Soundbar and Subwoofer |
| Color | Black |
Like Yamaha Smart TVs, its soundbars are also worth discussing under the list of the best soundbars for Vizio TV. It will instantly connect with your Vizio smart TVs with wired or wireless connectivity options and deliver high-quality sound.
It is blessed with a sleek and slim design, an ideal size to put under your large-size TVs for better audio output that reaches every corner of the room. The soundbar includes four drivers that are 1.75inch each and two 1-inch tweeters. The wireless subwoofer may take up your significant space because of the 6.5-inch woofer that aims to deliver rich and deep bass and add life to your parties.
Moreover, this best soundbar for Vizio offers rich connectivity with Ethernet, Bluetooth, HDMI, USB, and WiFi. You can also use the built-in Alexa voice control function to control the device from your comfort. In addition, the dialogue accuracy of the YAS-209BL is extraordinary, and the sound quality is also fantastic while streaming movies or shows, thanks to the DTS Virtual: X tech. You can also expect a realistic beast-mode sound while playing games, which boosts your enthusiasm and energy.
5. Bose Solo 5 Soundbar
| | |
| --- | --- |
| Brand | Bose |
| Model Number | Bose Solo 5 |
| Connection Technology | Wired & Wireless |
| Speaker Type | Soundbar |
| Recommended for | Smart TVs |
| Dimensions | 3.4 x 21.5 x 2.8 inches |
| Weight | 3.70 lbs |
Bose Solo 5 is one of the perfect mid-range soundbars for your Vizio Smart TV. This soundbar unit integrates a subwoofer and two drivers responsible for enhancing your listening experience by rich and clear sound output.
Furthermore, the build quality of the soundbar is ideal, with the grill covering the soundbars, and the plastic coating does not make the unit heavy. You would not find anything on the soundbar for navigation, except for the LED indicators. It comes with a universal remote control that might be a little complex to understand at first. Still, it integrates every dedicated button you would need to operate the soundbar with Vizio TV.
Unfortunately, this mid-range best soundbar for Vizio TV does not offer any advanced sound technology or formats. Still, its dialogue clarity is pretty impressive while streaming shows, podcasts, documentaries. The subwoofer is also a little disappointing in fast action scenes and games due to the low-bass performance, but it can be a reasonable update to the Vizio TV built-in speakers.
6. Sonos Beam Soundbar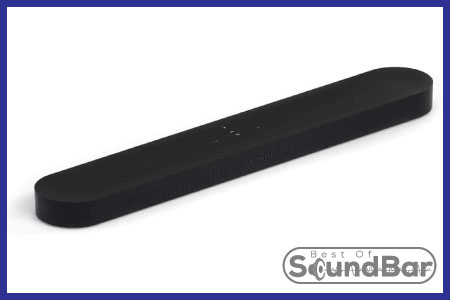 | | |
| --- | --- |
| Brand | Sonos |
| Model | Sonos Beam |
| Connection Technology | Wired & Wireless |
| Speaker Type | Soundbar |
| Recommended for | Surround Sound & TVs |
| Dimensions | 25.6 x 2.7 x 3.9 inches |
| Weight | 6.35 pounds |
Sonos beam provides value for many by delivering fantastic sound quality from its attractive unit. With a weight of only 2.8kg, you will hardly notice its presence under your Vizio TV unless it starts becoming a wild beast.
Unlike Bose Solo 5, you can find navigation control buttons at the top of the Sonos Beam soundbar. You can expect volume control buttons, previous or next navigation buttons, and play/pause with an LED indicators. Besides, you will get one HDMI and one Ethernet port with a pairing button at the back panel. Yes, the wired connectivity is relatively limited than other soundbars at this range; its other smart features are willing to cover this drawback.
The built-in microphone in the Sonos beam detects your voice from every corner and instantly acts according to the demand. Also, you can play the music wirelessly from multiple sources with the Sonos soundbar and enjoy the loud, clear, and warm listening experience. It also supports AirPlay2 to experience a multi-room system apart from connecting to your TV, smartphone, and other digital devices.
7. Yamaha SR-C20A Soundbar
| | |
| --- | --- |
| Brand | Yamaha Audio |
| Model Number | Yamaha SR-C20ABL |
| Speaker Type | Soundbar |
| Connectivity Technology | Bluetooth, Auxiliary, HDMI |
| Recommended for | Smart TVs, Smartphones & Tablets |
| Dimensions | 25.98 x 5.98 x 5.98 inches |
| Weight | 3.97 pounds |
Have you ever thought of getting the beast out of a small package? Well, Yamaha SR-C20A is the perfect example of an ideal combination of mind-blowing design with exceptional performance. It is made to improve the quality of built-in speakers of Vizio smart TVs. Hence, it offers rich connectivity for quick pairing.
In addition, the full range of built-in drivers of the soundbar promises rich volume, and the subwoofer takes care of bass depth to enjoy every bit of the audio it produces. Also, wherever you set this modern-looking soundbar, the Yamaha virtual sound technology ensures the sound reaches every corner of the room.
Many other impressive features make it the best soundbar for Vizio TV, like the dedicated app for navigation, bass extension options/buttons, crisp and clear voice, etc. Besides, you can expect a clear and excellent audio representation with dialogue accuracy, even with a basic sound mode. Therefore, It is an ideal regular use soundbar for listening to music, streaming movies, shows, and playing games.
Best Soundbar for VIZIO TV – Buying Guide
Sometimes we have to compromise a little to get what we want in life. Similarly, the modern design TVs that are getting slim with each passing day couldn't find a way to integrate the best-quality built-in speakers in their system.
Thus the consumers are turning to the best soundbars to satisfy their listening needs. Well, think about it; what is the point of listening to podcasts when you can't understand them? Such questions trigger the consumer and make them invest in the best soundbars to connect with their digital devices, most importantly TVs.
But, while purchasing the best soundbar for Vizio TV, you don't have to compromise on anything. It should be your one-time investment for multipurpose use, so it better be worth every penny.
Here are some fundamental factors that you should consider while making this essential purchase.
Soundbar Size
Where are you planning to set the soundbar? If you want to place it under your TV on the stand, make sure the soundbar is not tall enough to block the remote control signal to your TV. Besides, if your TV stand has a dedicated space for other devices, consider placing them there. Still, you have to have proper measurements so you won't have to invest in the furniture for it.
Soundbar Channels
Suppose you are looking to enhance your TV speakers only. In that case, an entry-level or a midrange soundbar having a 2.1 channel system is enough for you. It can deliver loud enough volume without distortion. Other features would also come along (depends on the brand and model). However, if you want a premium soundbar and are willing to set a home theatre system, get a multi-channel system with a wireless subwoofer and many smart features.
Connectivity
With any digital device, the more connectivity inputs you get, the better. Wired or wireless connectivity will help you pair the soundbar with other digitally compatible devices and make the most out of your investment. Besides, never settle for only wired connections. Your soundbar must offer WiFi or Bluetooth connectivity to pair with smart TV or Smartphones. However, HDMI ports with eARC support, Ethernet, and USB ports are a significant step up.
Audio Formats
Audio or sound formats are a modern technology in soundbars that deliver sound quality according to the ambiance.
Dolby Atmos technology and DTS Virtual:X has a height element and optimizes objects in the room to bounce off the sound and does not make distortions. These technologies map the sound effects and enhance the sound output for a premium listening experience. Usually, these advanced audio formats are achieved by built-in up-firing speakers in the soundbar. Sometimes, you can expect a height effect or sound mapping effect on any mid-range soundbar available of a good brand.
Bottom Line
Soundbars deliver a premium listening experience unless you choose the right one to pair with your digital devices. I have reviewed seven top soundbars that contain compelling drivers that should work well with your Vizio TV.
These best soundbars for Vizio TV come with a modern design while integrating advanced sound formats to deliver crisp, clear, and excellent sound output for multiple uses. Besides, the buying guide would also help you in deciding the perfect match according to your requirements.
Thank you for reading this far! I hope that the information provided in this article will be helpful to you.

Ever since his parents got him his first boombox as a kid, Kenny has always been into music and sound systems. In high school, he replaced the cheap speakers in his '93 F-150 and swapped out the old cassette player for a CD deck. As technology progresses, Kenny enjoys staying at the front of the latest and best products available. That's why he started Best of Soundbar site to provide information and in-depth reviews.