Soundbar could be a beautiful addition to your technology collection, especially if you are a music lover. They produce much better audio, sprinkle some crispy layer of bass, and ensure terrific dialogue delivery. Whether connecting to your smart TV or streaming online music platforms, the Soundbar can do wonders in every area of the audio.
We are here with the Best soundbars you could get, but with a minor count of convenience. Yes, getting the best Soundbar is not enough, but the setting, connecting, adjusting is another hassle to face. So, consider this best Soundbar with the Google Assistant feature that provides you a hassle-free experience and runs the device with your voice command.
It is time to forget the remote control or confusing apps to manage your Soundbar functionality; you can do it by just asking Alexa. So, let's discuss the options that offer this premium factor and make the Soundbar stands out among other attractive choices.
List of the Best Soundbar with Google Assistant and for Google Home are as under.
Bose Smart Soundbar 700
Vizio SB3651-F6 Soundbar
Polk Audio MagniFi
Polk Audio Signa S3 Soundbar
Sonos Beam
Sonos Playbase
Best Soundbar with Google Assistant Comparison Table 2023
1. Bose Smart Soundbar 700
| | |
| --- | --- |
| Brand | Bose |
| Model Name | Soundbar 700 |
| Speaker Type | Surround |
| Connectivity Technology | Wi-Fi |
| Features | Alexa and Google Assistant |
Streaming movies/shows or playing games without deep and rich music quality seems like ruining the whole mood to enjoy. Therefore, Bose comes with this incredible Soundbar that easily connects to your Smart TVs, phones, and all the other digital devices and starts delivering an excellent listening experience.
Coming in with the pleasing design featuring a metallic grill and tempered glass at the top, it will compliment your TV while sitting under it. Besides, the Soundbar is ready to turn your entertainment experience into the next level with crystal clear audio to stream shows and deep bass for music performances. Moreover, the connectivity offers wireless WiFi pairing with your devices. In addition, a couple of wired connectivity ports are also coming your way for gaming consoles, digital players connections, etc.
You must be wondering about the setup and controlling process of the design. Right? Well, with the Bose soundbar 700, you don't have to bother finding a remote control to adjust volume or switch to different modes, let alone the setup. Yes, it is the best Soundbar with google assistant for a reason. It allows you to manage or control the device completely hands-free. Just ask Alexa to connect the Soundbar with a particular device, put volume to the specific range, or adjust settings from the comfort of your couch.
2. Vizio SB3651-F6 Soundbar
| | |
| --- | --- |
| Brand | Vizio |
| Model Number | SB3651-F6 |
| Connectivity Technology | Bluetooth, Wi-Fi |
| Speaker Type | Surround |
| Special Feature | Google Assistant & Subwoofer |
After the success of Vizio Smart TVs, the brand is trying its luck by diversifying the product line and producing this best Soundbar for google home. Moreover, connecting the Soundbar with different smart devices becomes more convenient than we could ever think with WiFi and Bluetooth compatibility.
Besides, it is a 5.1 channel soundbar, striving hard to deliver premium audio quality with fascinating dialogue delivery. The audio output will be a step up to the built-in speakers of your TV and an excellent combination for all your gaming nights. Also, it is the Soundbar with google assistant built-in, so the setup and navigation of the device become more appealing. You don't have to depend on the remote even though it is user-friendly and has all the dedicated buttons at the front. Besides, HDMI ARC and Bluetooth support are additional attractive features of the Soundbar that may convince you to purchase right away.
Furthermore, the Soundbar does not have a chunky design to catch your attention in a crowded room. However, the wireless subwoofer can do that and attract you with the room-shaking bass delivery that can go high as 101db.
Fortunately, the Vizio soundbars deliver what they intend to and ensure integrating the latest technology to enhance the overall experience, no matter what you are listening to. So, a Virtual: X and Dolby Audio technology in the Soundbar ensures rich and overhead sound delivery from the device. So, get ready to not miss any part of the content at the movie nights or parties because the noise will be coming from every direction.
3. Polk Audio MagniFi Mini Home Theater Surround Sound Bar
| | |
| --- | --- |
| Brand | Polk Audio |
| Model Name | MagniFi Mini |
| Speaker Type | Soundbar |
| Special Features | Google Cast |
| Dimensions | 4.3 x 13.4 x 3.2 inches |
Suppose you are tired of the awful sound performance of your smart TV. In that case, you should consider this cute compact Soundbar that comes with all the exciting features you could get in the high-end sound systems. It will undoubtedly do the job like your heavy soundbars could offer you with their expensive price tags.
In addition, it has a flexible yet compact design, easy to sit anywhere you want. However, you may need to dedicate a particular space to the wireless Soundbar. Well, Polk Audio MagniFi is only three inches high and 13 inches wide, probably going backward in terms of getting heavy to feel noticed in the digital world. But, I can assure you the small size can generate a big sound that will shake your presence in the room. The different sound modes also help you optimize the audio quality according to your content, so it's a plus point. This best Soundbar's automatic voice adjustment technology can do wonders while streaming or switching to different content.
Besides, the Soundbar gives home to the four drivers at the front and two tweeters. In contrast, the compelling smart wireless subwoofers feature a downward-facing driver and a port. Moreover, it combines a 2.1 channel system soundbar that offers you multiple enjoyable ways to stream online music. For connectivity, the Soundbar provides WiFi, Bluetooth, a headphone jack, and an HDMI ARC port to connect seamlessly with a TV.
 Another addition to the Soundbar's compatibility with Google Cast, which lets you direct music streaming from different platforms. The built-in voice control support also helps you browse or find the right content to take your enjoyment to the next level. Hence, it is a premium soundbar for all your audio needs.
4. Polk Audio Signa S3 Soundbar
| | |
| --- | --- |
| Brand | Polk Audio |
| Model | Signa S3 |
| Speaker Type | Soundbar |
| Connectivity Technology | Bluetooth, Auxiliary, Wi-Fi, HDMI |
| Price | Under $3oo |
It is the most incredible yet slim Soundbar in the list of the best Soundbar with Google Assistant support. It is only a 2.1 channel with a wireless subwoofer and delivers powerful audio quality at the most reasonable price. Moreover, the audio vibrations shake you at a high volume, and the favorable dialogue delivery keeps you hooked with the streaming platforms.
Furthermore, Polk Signa S3 aims to enhance the home theatre experience using robust front-firing mid-range drivers and dual front-facing tweeters. In addition, the Soundbar can deliver the audio at a frequency range between 45Hz to 20kHz, which is thoughtful stats and a very great audio delivery at this price.
When talking about the built-in features, mentioning the best Soundbar with Google Assistant is a must. It makes the Soundbar stand out among others that rely on a dedicated remote control for navigation and setup. Besides, the WiFi, Bluetooth, and HDMI ARC support are other pleasing add-ons that would excite you and offer premium convenience to pair it with other devices.
The Soundbar also features a built-in Chromecast, which means you get to enjoy unlimited entertainment even without connecting to your TVs or smartphones. You can usevoice control support and ask Alexa to stream music from different online platforms in minutes. This way, this best Soundbar for google home can be the life of your upcoming parties with loud and clear music and easy usage.
5. Sonos Beam with Alexa Built-in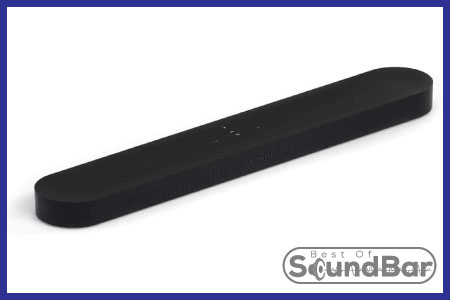 Sonos beam is another huge name in the Soundbar market. Their devices are famous for reliability, excellent functionality, and pleasing designs. This one unit Soundbar from the Sonos Beam successfully attracted us with its compact size, perfect for sitting comfortably under the large-size TVs. Besides, the design is relatively simple, with no such grills and display at the front. However, the perfect matte finishing is something to adore.
Moreover, the Sonos Beam Soundbar can generate high-definition audio with full clarity and detail, never letting you miss anything while streaming shows. Its audio output in the podcast is also very detailed that might keep you hooked with content. Also, the volume can go incredibly loud, filling your room with the shaking noise that reaches your soul.
When talking about the control, it has a built-in Alexa support that helps you browse content, switch connections, adjust volumes over your voice commands. Though it comes with remote control and has a dedicated app, why use additional devices when you can use your voice?
The Soundbar also envelops incredible online streaming capabilities for audio and video playback. The deep and weighty bass allows you to enjoy every sound beat even at the max volume. Fortunately, there is no distortion while streaming audio, which would be a plus point at this price.
6. Sonos Playbase
Last but not least, SonosPlaybase Soundbar, which won our hearts with its unique yet stylish design. The build quality is terrific, and the availability of black and white colors helps you match it with your TV or home interior. Besides, the wide design delivers a wide soundstage, which we all expect from the best Soundbar.
From the overall design perspective, Sonos keep things simple. You won't find any messy indicators or buttons on the Soundbar except one that allows you to set up or link the device with other speakers or systems. There will be touch-sensitive buttons for the play/pause and volume adjustment functions that usually don't come in use. Yes, it is one of the best soundbars with Google Assistant and lets you enjoy streaming, adjusting, and other navigation properties handling through your voice.
However, it does not offer plenty of connectivity. It has one optical audio input, which sometimes makes you struggle while connecting or setting the device. The optical cable connects to the TV, takes all the sound, and runs through the Soundbar with better quality, crisp, and clear output with speech clarity. Unfortunately, there is no HDMI input available in the system, so you must adjust with one optical output. But, there will be WiFi to link with smartphones and smart TVs quickly.
Best Soundbar with Google Assistant – Buying Guide
There is no harm in attracting pretty things, especially when you have to use them almost daily. But, when it comes to technology, you have to ensure its functionality and reliability. Similarly, with the best Soundbar for TV, many factors contribute to the decision-making process.
Yes, you might want to get a soundbar that offers wireless connectivity, so you can make it a part of your outdoor activities. But what about its flexibility, built-in features, and sound quality? Yes, you have to also look into it. So, there is a mini buyer guide for all newbies updating their sound systems with a soundbar with zero knowledge of their fundamental characteristics.
Channels in Soundbar
While reading the reviews, you must come across the statement "It is a 2.0 channel soundbar" or "it is a 5 channel soundbar", but what does having a channel in a soundbar mean?
When talking about a soundbar, we refer to a channel with a number of drivers it contains. Drivers are responsible for producing audio, and they are supported by particular audio technology for sound enhancement.
So, suppose you like a soundbar with a 2.0 channel system, know that it has two drivers at each side of the device, generating audio output for you. If there is a 3.1 channel soundbar, it should have three drivers, two at either side and one at the center. Probably it is equipped with a center channel for dialogue enhancement or a tweeter.
Audio Technology
The aim of audio technology in the speaker is to enhance the sound output, add some sound effects, and adjust the quality according to the content, so the end-user has a better experience and more understanding. In addition, the DTS Virtual: X presence ensures the sound comes from all directions. It should be room-shaking, so the audio vibration hits everyone in the place.
Moreover, dialogue enhancement technology ensures the clarity of the speech. It should be a must if you love streaming movies/TV shows and documentaries.
Built-in Features
A reasonable price soundbar with great built-in features feels like a pie on a cake. But, remember, the elements and their adaptability may vary with the price tag. Well, the more you spend on the device, the more features you get to experience. However, several essential functions like built-in Voice control support, wireless connectivity, dialogue enhancement, automatic audio adjustment technology, etc., would be available in the best Soundbar with Google Assistant built-in.
Connectivity
Imagine if the Soundbar does not contain any input or output ports; how will you connect it to the other devices and make the most out of your purchase? Well, you don't even have to imagine if you are landing to the detailed review of the best Soundbar with Google Assistant. All the Soundbars mentioned in the article come with rich connectivity, including wired and wireless.
WiFi, Bluetooth, optical digital, and HDMI ARC should be a must with a Soundbar. Besides, USB port input could be a thoughtful addition, making it more flexible to enjoy music that you have stored in the device for ages. Also, HDMI ARC will let you connect smart TVs, gaming consoles effortlessly.
Conclusion
A soundbar is a thoughtful and budget-friendly option to enjoy music with the latest technology integration. A reliable soundbar comes with exciting features that can change your perception of the audio quality, at least from the one you have been getting from your TVs.
Thank you for reading this far! We hope that the information provided in this article will be helpful to our readers.

Ever since his parents got him his first boombox as a kid, Kenny has always been into music and sound systems. In high school, he replaced the cheap speakers in his '93 F-150 and swapped out the old cassette player for a CD deck. As technology progresses, Kenny enjoys staying at the front of the latest and best products available. That's why he started Best of Soundbar site to provide information and in-depth reviews.