Dell Soundbar AC511 is an ideal alternative to high-end soundbars that deliver a similar audio output with e heavy price tag.
It is a basic entry-level soundbar that knows its job and looks fascinating with monitors and TVs. Since it is designed mainly for PCs, so there are some limitations that you might have to settle with.
Dell Soundbar AC511 review will further reveal what this surround sound offers. But, I assure you it is a small valuable package for all your audio needs.
Dell AC511 Soundbar Review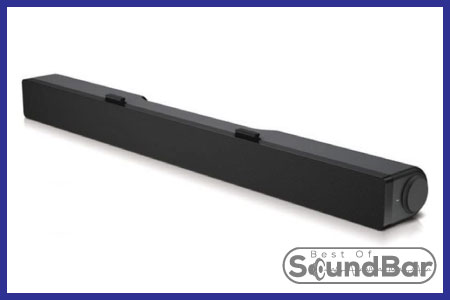 | | |
| --- | --- |
| Brand | Dell |
| Model Number | AC511 |
| Connectivity Technology | Wired |
| Speaker Type | Soundbar |
| Surround Sound Channels | 2.0 Channels |
| Weight | 1 Pound |
| Item Dimensions LxWxH | 16.5 x 1.9 x 1.5 inches |
| Color | Black |
| Price | Under $40 |
Dell Soundbar AC511 Design
The soundbar comes with a basic design in black to set up with a monitor. Dell seems not to waste time in designing textures and integrating LED displays. It is a simple soundbar that requires a USB port cable to plug and enjoy the rich volume.
Also, the size is perfect for mounting with a monitor,so you can easily connect it with your monitor and have a smooth experience.
Connection
Since it is an entry-level soundbar with a pocket-friendly price tag, it does not offer multiple connectivity options. Only a USB cable port and a headphone jack are available to pair different devices, which sounds fair as a monitor-based soundbar. Unfortunately, the soundbar does not offer any wireless connection option.
Performance
You won't believe the audio output it delivers with its limited speakers. The loud, clear and crisp sound coming out of this cute soundbar will shock you.
Also, it offers realistic audio output with the gaming and while listening to the songs. You would not feel any distortion even with the loud volume. However, you will have a headphone jack that also delivers an outstanding and smooth listening experience for personal listening.
Setup
The soundbar will be ready to run as soon as you plug the USB cable with an easy and quick setup. Surprisingly, the soundbar is portable with weighing only 16.01oz, so you can place it anywhere you want for a rich sound performance.
Moreover, the stereo 2.1 channel system will be automatically set and does not require any additional settings to play any specific content.
Conclusion
Spending time in the office will be no longer boring with the dell soundbar AC511. It will accompany you with a crisp background sound while working on the spreadsheets.
With a compact size to fit under the monitor, it is a terrific entry-level soundbar to connect with your monitor over a USB cable. I assure you it will turn all your dull days into exciting ones.
Ever since his parents got him his first boombox as a kid, Kenny has always been into music and sound systems. In high school, he replaced the cheap speakers in his '93 F-150 and swapped out the old cassette player for a CD deck. As technology progresses, Kenny enjoys staying at the front of the latest and best products available. That's why he started Best of Soundbar site to provide information and in-depth reviews.