An HDMI cable is needed to connect your Apple TV 4K directly to the HDMI output of your soundbar or you can use the output AV receiver port if available on your soundbar. The Dolby Atmos pass-through feature on most televisions is not supported on soundbars and receivers. Plug your HDMI cable into the HDMI port of your receiver or soundbar.
For further details. read through the guide we've provided here.
Apple TVs are made to maximize the quality of the sound that they can deliver through the latest soundbars to fill the room like an actual home movie theater. If you have an Apple TV device it would be beneficial for you to be aware of the kind of sound it can handle.
You can check expert review on the Best Soundbar for Apple TV 4K.
The Apple TV is compatible with a variety of audio formats and you need to set up your Apple TV to listen to sound in high quality.
Support Dolby Digital 5.1: Lets you listen to audio over multiple speakers attached with a subwoofer, like a 5.1 theater system.
Supports audio quality for all television shows and movies using stereo speakers.
People appear to be confused by the fact that Apple has removed the optical connection port from the latest versions; it was available on the older version. If you have a 4K Apple TV, don't worry, you can still connect a soundbar by following the instructions below.
Let's dive into the steps.
How to connect Apple TV 4K to Soundbar
Step.1 Plug Power Cable into Apple TV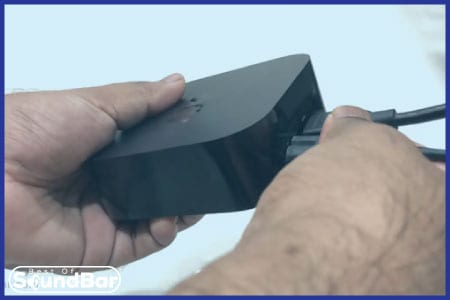 First of all, take the power cable that comes with Apple TV and plug it. By just looking at it you will come to know it's too straightforward to hook up. You will see two small holes at one end of that cable and on another end, there will be a switch to give it power.
Step.2 Run an HDMI Cable to Apple TV and Soundbar
You might already know that Apple devices do not provide an HDMI cable. Therefore you will need to purchase separately, without any concerns all HDMI cables will work fine.
So once you have an HDMI cable on your hand. Plug one of its ends to the Apple TV device and plug the second end into your soundbar device (Use HDMI input port).
Step.3 Connect Your Soundbar and Your TV Screen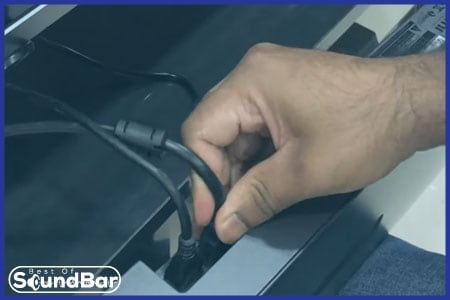 In this step, you will need to connect your soundbar to your TV screen. Depending upon which cable your TV supports for this connectivity. The cable should connect to the soundbar. It's generally an HDMI cable, but you will know better if you do this.
Using this method, the sound coming from your TV will be passed through to your soundbar at the same time as your soundbar is linked to your Apple TV device. It's like a triple connection that you must set up.
Step.4 Apple TV 4k Audio Output Settings
Once the devices are linked together. Now let's set up settings from the TV screen.
Turn your TV screen on. Make sure it's now supporting the Apple TV 4k device that you've just linked. Most probably it will be working fine on your side too as I had no issues there. Use your Apple TV remote, press the menu button. And get into the settings tab.
Click on the audio and video settings menu to access the options related to audio and video at the time of the search. We need to fix these settings in order for the sound to work as expected.
Here the settings that you'll need to alter in order to make your soundbar work with your Apple 4k TV.
Settings > Video and Audio > Audio Format >
Settings > Video and Audio > Audio Format > select Dolby Digital 5.1.
AUDIO OUTPUT. Settings > Video and Audio > Audio Output >
Settings > Video and Audio > Audio Format > Change Format >
Step.5 Go to Format Settings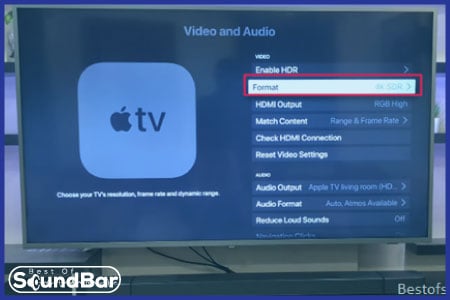 Go to the format settings just to make sure you're watching a video at 4k resolution. Although it is not necessary to follow this step yet you are useful on the other hand. As in this way you will enjoy the graphics up to maximum quality.
Step.6 Set Match Content On
On the setting's page. you will see this option named Match content turn this on. It will automatically set up audio frequencies when watching different movies, shows, serials, one of the features that you should always keep turned on for having a great experience.
Step.7 Set Audio Format to Dolby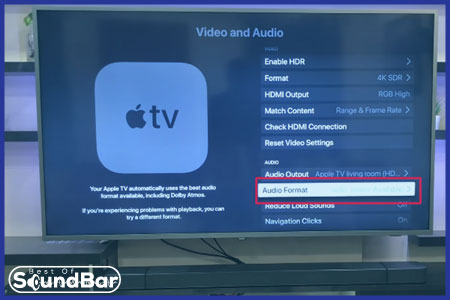 Again on the settings page, a little down. you can find the option Audio Format. Click on it to see if you've set up the Dolby connection or not. Most likely it would as I followed the same steps and everything was up to the mark.
Here is the image of the next page that you will see there if your Apple 4k TV has a Dolby sound system.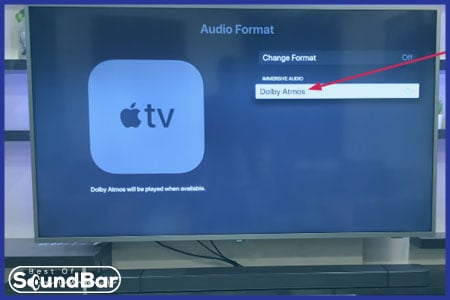 Clicking on it will allow your Apple TV to offer you an immersive sound experience.
Connecting Bluetooth Soundbar to Apple TV
You can connect your soundbar to your Apple TV using Bluetooth, as long as your device can work that way. The process to connect it is on a pretty straightforward word and the amount of time it takes is significantly less than the wired method.
Nevertheless, the quality of sound would be less immersive than if you had wired headphones. This is because Bluetooth connections seem to have intermittent audio and often desync issues mostly take place.
Nevertheless, since it's the easiest method, you might look into it, so here's how it works.
Use the Bluetooth pairing instructions given by the soundbar's manufacturer to activate it.
Apple TV searches for nearby Bluetooth accessories when you are in Settings > Remotes and Devices > Bluetooth.
You will see the name of the device you're about to link with. There, Choose your Bluetooth accessory.
If it's prompted asking for a password, enter a four-digit code or PIN.
Apple TV 4k Audio Passthrough
There is basically no concept of 4k audio passthrough out of a 4k Apple TV. In order to grasp this statement, you must have knowledge of how audio works.
Considering only three different audio formats that an Apple 4k TV can support, surely they are the most popular and latest audio formats and Apple TV undertake them all:
The best available (Automatic) channel is PCM Multichannel; this doesn't necessarily mean 2.0.
Dolby Digital 5.1;
Stereo (PCM 2.0).Depending upon the soundbar you have you can choose the best suitable option among the three of them. Configure settings for each from the Apple settings> Audio>formatThese fallback options can be used in the event that Automatic will not work sufficiently in most cases. This is due to the fact that Apple TV cannot read instructions given on all available soundbars.As previously mentioned, Apple TV does not support pass-through. The content has to be decoded or re-encoded into one of the output formats, after receiving it compressed (AAC 7.1, DD 7.1, something closer to these audio values.Now when you've connected the Apple TV to the receiver, and use the HDMI ARC port on the receiver to connect to the TV as we've shown in the above guide. So, the audio will be compressed before coming out of the sound.And in this method. you don't need an optical connection cable with two HDMI connections. Because Optical audio connections are not compatible with PCM Multichannel, only HDMI connections can handle this. An optical audio cable may be responsible for 2.0 stereo output in this instance.
Can Apple TV Control My Soundbar?
You may decide to use the Siri-enabled Apple Remote to control your soundbar volume. It's a real pain to keep track of two remote controls. And fortunately, you no longer need to bear this.
Although these dedicated volume buttons work without any user interaction, they do not work automatically yet you would be pushed to manually set up your SIRI remote to learn the volume commands of your TV, soundbar, or audio receiver.
Well, not to worry much! it's very straightforward and can get the job done fast. Just keep following the below-mentioned instructions.
Step.1 Open Setting> Remote and Devices
Turn on your TV and press the Menu button from your TV remote.
Click on Remotes and Devices on the settings page, it will list all the external devices that need to be linked along with the option to change settings.
Step.2 Control Volume
Move the bar all the way below and select the Volume Control option from there. From there we can set up settings for controlling volumes to external devices. In this case, it's going to be the soundbar.
Step.3 Learn New Device
On this page, you will see the option Learn New Device. It allows us to set control for an external device. However, most often the first option Auto can get this job done. Since we're assuming that it does not work for some reason. We've to set a manual connection to control volume.
Step.4 Set up Volume Keys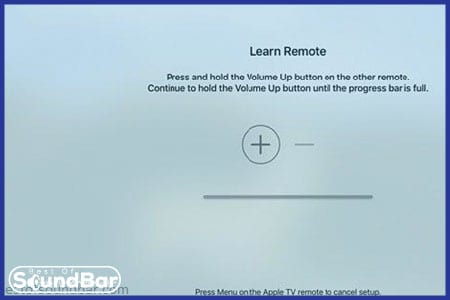 After clicking on the Learn New Device you will land on this page. By pressing the volume keys, up and down. This command will be installed on the TV.
Step.5 Name it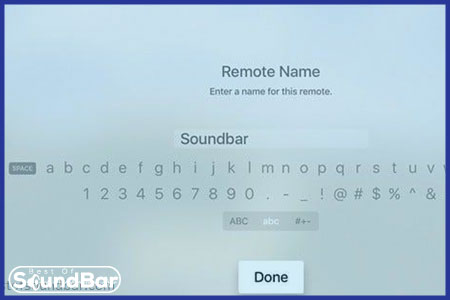 There will be a similar page open, asking you to name this new function. It's done. You can now use your Apple remote to control TV functions and the soundbar functions at the same time.
Does Apple TV 4K have Optical Out?
No, due to some designed-based reasons, the latest Apple TV models newer than 2013 models no longer have an Optical port. Now there's only one connection port which is HDMI input. Nevertheless, by using a converter HDMI to optical, you will be able to use an optical cable if this is important for you. The market has a wide range of adapters you can purchase from Amazon, as well. As far as I'm concerned, they are more than satisfactory, producing good results, similar to what you get from the HDMI.
Does Apple TV 4K have audio out?
Apple TV 4K doesn't include native support for optical audio. It's possible to connect your TV to an external sound system using the HDMI ARC (Audio Return Channel) cable, but this will only work if your TV has been updated to include HDCP 2.2.
Ever since his parents got him his first boombox as a kid, Kenny has always been into music and sound systems. In high school, he replaced the cheap speakers in his '93 F-150 and swapped out the old cassette player for a CD deck. As technology progresses, Kenny enjoys staying at the front of the latest and best products available. That's why he started Best of Soundbar site to provide information and in-depth reviews.