It is common to see in homes that the remote magically disappears, or sometimes the battery runs out in the remote in times of need. In such cases, we are helpless and have to turn on our devices without a remote. Wouldn't you be in a dilemma if the same happened with your Sony soundbar remote? Below are the suitable solutions to your problem.
How to Turn ON Sony Soundbar Without Remote 
Method 1: Press Power Button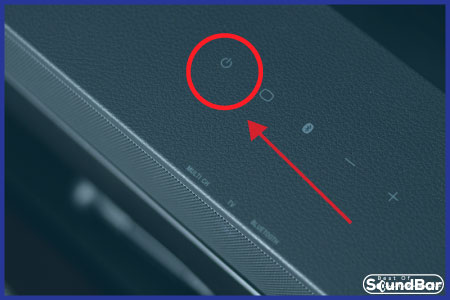 First, if we analyse the Soundbar's body, a few buttons are available in the Soundbar case. The power button will also be available in those buttons on either side of the Soundbar. You can effortlessly power on your Soundbar by pressing that power button.
Not only power on and power off, but we can also increase or decrease our soundbar volume with these buttons. In a few soundbars, the Mode button is also available there. We can also change the soundbar mode from AUX to USB or USB to AUX.
We can connect our Soundbar to a smartphone or any other mobile device through Bluetooth with that mode button.
Method 2: App Control
When you want to turn on a soundbar without the remote for some reason, it is effortless. You can turn on your Soundbar through your smartphone.
 If you are an android user, you will go to the Google app store and find your Soundbar remote app there. You need to install that application on your android smartphone and turn on your sound.
If you are an iPhone user, you need to visit the Apple App store to find your Soundbar remote app and install it. After that, you can turn on your Soundbar through your iPhone.
If you don't get your Soundbar remote app there, you need to go for the universal Soundbar remote app. The universal soundbar remote app will surely solve your issue, and you can use your smartphone or iPhone as your soundbar remote. You cannot only turn on/off your Soundbar, but you can also increase or decrease your soundbar volume with the assistance of that app.
Method 3: You can sync your sony soundbar with your TV remote. After which, you will need to use only one remote to turn ON/OFF Soundbar and TV. When the Bar Speaker obstructs the remote control sensor of the TV, the TV remote control may not work. In that case, enable the IR repeater function of the system. You can control the TV with the TV remote control by sending the remote signal from the rear of the Bar Speaker. IR repeater is on when the USB flashes twice.
You can also check our recommended soundbars for Sony TV.
If you have your remote, but it does not work, you can try out the following steps to check it.
The remote control of this system does not function:
  Point the remote control at the remote control sensor on the Bar Speaker 
 Eliminate any hurdles in the path between the remote control and the system. 
 Replace both batteries in the remote control with new ones if they are weak. Ensure that you are using the correct button on the remote control. 
If all these methods seem to fail and you are still baffled, you should contact Sony support for guidance. The Sony Soundbars are great products and offer an immersive sound experience. Troubleshooting minor problems are easy, and once you are all set, you can enjoy the outstanding audio experience hassle-free. 
Ever since his parents got him his first boombox as a kid, Kenny has always been into music and sound systems. In high school, he replaced the cheap speakers in his '93 F-150 and swapped out the old cassette player for a CD deck. As technology progresses, Kenny enjoys staying at the front of the latest and best products available. That's why he started Best of Soundbar site to provide information and in-depth reviews.